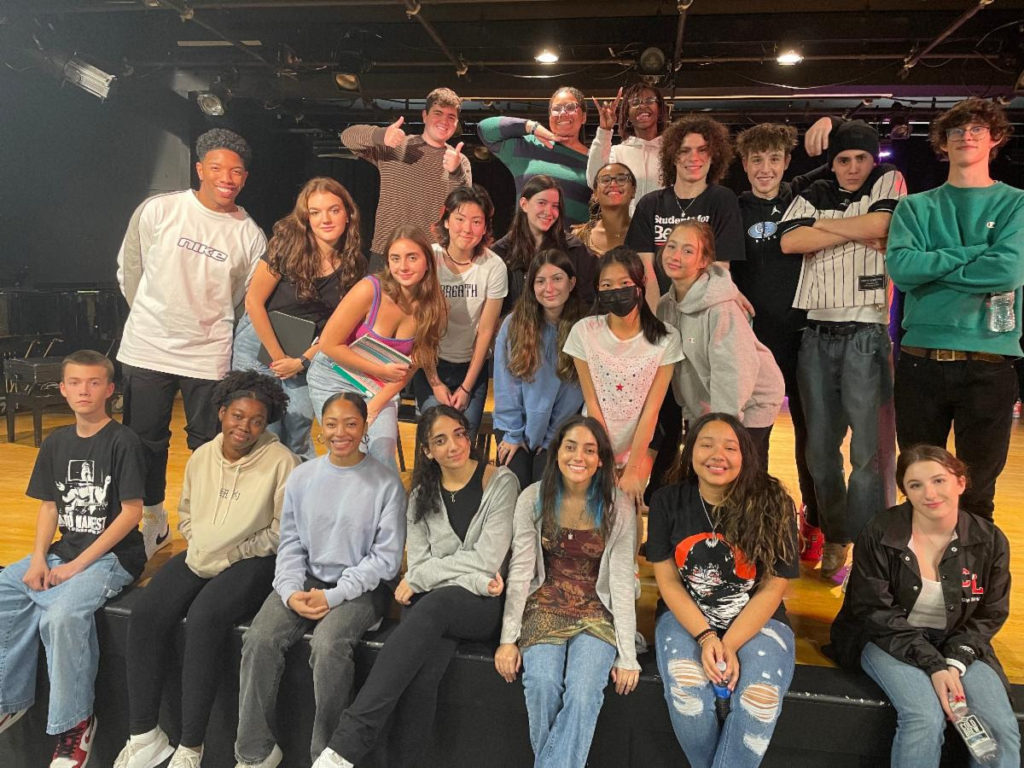 Announcing…
Waterwell's 12th Annual New Works Lab!
Each year, Waterwell's New Works Lab program commissions a professional playwright to write a complex, thematically rich new play for the senior class of Waterwell Drama Students as their culminating experience at PPAS.
Proud to Introduce…Playwright Liz Morgan & New Play Kill The Messenger!
Q: Where did you find the inspiration behind Kill The Messenger? 
A: Thinking about Covid, people's response to crisis and the rules that we make, and then the history of our responses to crisis: how we decide what safety means, what are the rules around who even gets a say about policy, and the exhaustion of trying to figure it all out in a way that mitigates harm. All of the sudden, Noah's Ark just started bubbling in my head. This was one idea that I wanted to bring to the students and see if they have similar interest in identity and policy and politics and how all of those things start to swirl together when people tell you 'hey the world is in crisis' or 'hey the world is ending.' How do different communities come together to devise and execute a plan that works for everybody?
Q: You had the opportunity to lead a series of devising workshops in the fall with the students. How did the devising workshops with the class of 2023 inform your writing?
A: So much of [the play] is inspired by what they did in the devising workshops. [There's a certain scene] that was completely born out of the student's invention. They showed me what kind of plots were exciting to them. Some individuals showed us what kinds of characters they excel at playing. One student in particular, after the workshops, I knew I had to write a villain for them to play because they were so talented at creating high status characters with a streak of evil. I found them very funny in the devising workshops which empowered me to write some biting satire- our first week was about discovering if we're prepared to use comedy to talk about difficult topics. I'm still learning where my style and the aesthetics of the class intersect.
Q: Inspiration behind the piece (cont.)
A: I've always felt like the animal kingdom has been a great reminder for me that there are so many other ways to build family, to build community, to decide who's the hunter and who's the gatherer, and so that obsession for me definitely played out when I wrote. [The play is] putting on stage some of those connections so people can start to think a little bit more about what we're doing in the human world by looking at the animals.
Kill The Messenger Synopsis: An apocalyptic flood of biblical proportions is on its way, and there is only one person who can save mankind: Noah Banks, a famous megachurch preacher with access to a swanky superyacht. As his community of family and friends struggle and scheme — each to secure a place on this modern-day ark — news spreads throughout the animal kingdom that their salvation is in the hands of Noah and his God as well. What ensues is a fight between the power of faith and the power of the masses to decide the fate of planet earth and its inhabitants of every kind. 
LIZ MORGAN is a multi-hyphenate theatre artist. Her plays have been developed with The Fire This Time Festival, The Lark, Fresh Ground Pepper, Liberation Theatre Company, Judson Arts, Rising Circle, Rites & Reason Theatre, and National Black Theatre where she was named a finalist for the I AM SOUL Playwrights' Residency.
Liz's plays include her solo show, Deep $h*t, as well as Deliver: Letters to the Motherland from a Foreign Body (2019 Kilroys List Honorable Mention), Breaking & Entering, A Matter of Taste, Our Father and The Clark Doll which was nominated for a 2018 Drammy Award in the category of Best Original Script after its west coast premiere. www.LizMorganOnline.com